Taisykla7 for portable, stationary and Apple computer virus cleaning/removal. This is one of the our available at computer repair Services.
Contact us and we'll make sure your computer is free of all infections and malware that could put your personal data at risk of both leakage and loss. But it also slows down the entire system.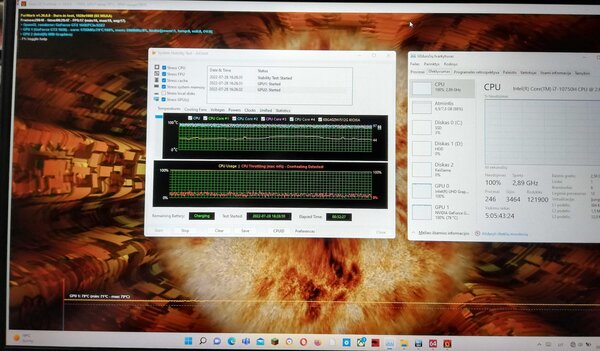 What damage can viruses cause?
The virus can cause a lot of problems for both laptops and desktop computers. Viruses can not only significantly slow down or "hack" a computer (PC), but they can also corrupt operating system files. In order to spread, unwanted programs ("spam"), malicious programs ("malware") or viruses take advantage of security vulnerabilities in the operating system or in the installed applications. Viruses and malware can be particularly dangerous for your laptop because they can expose your personal information to cyber criminals, encrypt your files and ask for a ransom to recover them. They can also corrupt photos, documents such as word, excel or other important files created by other programs.
Performed by our company's craftsmen virus removal help you avoid the following problems: we'll find malicious and spyware programs that are hiding and running unnoticed on your computer and remove them efficiently and safely. Don't delay, because viruses transmit data stored on your laptop or desktop computer to hackers or other malicious actors. Virus cleaning will be carried out smoothly and expeditiously.
How do I know if my computer is infected with viruses?
Normally, many computer users do not even notice that their computer has been infected. Taisykla7 can quickly run a preventive check on your computer, even if everything seems to be working fine.
Taisykla7 recommends checking that your anti-virus system is up to date and performing a full and thorough scan of your computer at least once a month. If you have a laptop or stationary computer computer performance is slowIf you go to make coffee while waiting for your computer to boot up, your computer often crashes unexpectedly, shuts down randomly, shows blue screen with an error message, don't risk private information and get it repaired as quickly as possible. Now you know how dangerous it can be when a laptop or desktop computer is infected. Everyone living in Vilnius, Kaunas, Klaipėda or Šiauliai you can come to us yourself, because in these cities you can come to us yourself for help with your computer. However, in the rest of Lithuania (Panevėžys, Alytus, Marijampolė, Utena, Telšiai, Tauragė and districts) we can pick up your computer for virus removal by courier.
Malware or viruses can manifest themselves in the following symptoms
Your laptop, desktop or Apple computer has slowed down a lot and isn't running as fast as it used to;
The installed antivirus software often reports certain problems it detects;
Random pop-up messages or online advertisements that open;
When you browse the internet, you end up in the wrong place and are redirected to all sorts of strange websites;
A program has appeared on your computer that you don't remember installing;
Your computer often shuts down or freezes for no reason;
A certain installed application asks you to pay when you clearly shouldn't.
Virus cleaning - types
Crypto ransomware malware (Cryptoware): A program that encrypts/makes inaccessible information on a computer so that it cannot be opened or copied, and requires a ransom to be paid in cryptocurrency (Bitcoins, etc.), PayPal or bank transfer to access it. If you have experienced this, never pay the bad guys. Even if you do pay, there is little chance that you will regain access to the files. In this case, you need to reinstall your computer to have any chance of recovering your data.
Ransomware (malware): A program that threatens to pass on certain data captured on or by a computer (screenshot, camera, etc.) to friends, police, Interpol, etc. Such a virus can be safely removed without losing any data.
TrojansA program that pretends to be a legitimate program such as an antivirus and makes it look like your computer is infected with a number of viruses, but is itself a virus and is scanning your computer trying to gain access to private information.
Information-gathering malware (Keyloggers): An application that allows you to record every click you make on a button, your web browsing history, your private data such as bank logins, passwords, etc., or any other action.
Adware (adware): An application that continuously displays promotional messages, offers, etc.
Viruses (Worms): Such a virus spreads through a local computer network (using a shared router for wireless connections, etc.), infecting the computer and destroying its data.
Spyware (spyware): Hard to detect because the virus spies on you without affecting your computer's performance and by embedding itself in the operating system. The data is usually forwarded to the hackers who launched it.
For more details on computer viruses, click here.
There are also many other types of malware or viruses on the internet that can be contracted by opening an email thinking it was sent by a colleague or close friend. It is only when you open such an email that the virus infects your computer. Viruses can turn your computer into a base for forwarding such viruses to other people, or even for launching online attacks. If you have decided that your computer needs to be checked as a preventive measure or if you suspect that you have caught a virus, do not hesitate to contact us for help. laptop virus cleaning experts.