Taisykla7 is performed vacuum cleaner repairs. We professionally repair all brands and types of pumps:
Household vacuum cleaner repairs
Repair of professional / washable / industrial vacuum cleaners
We work directly with the manufacturers of the parts, so we guarantee the quality of our work: Karcher, Hoover, Bosch, Samsung, Swirl, Sencor, K&M, Electrolux, Miele, Philips, Dirt Devil, DYSON, Tristar, Arnica, Zelmer, Grizzly, Thomas, Clatronic, Saturn, Amica, Beper, ETA, iRobot, ECG, First, Guzzanti, Severin, Daewoo, Solac, Fakir, MPM Product, Neato Robotics, Polaris, Siemens, Beko, Carneo, Ecovacs, Euroflex, ForMe, Lavor, Moneual, Omega, POLTI, Princess, REDMOND, Ring Automotive, RoboJet, Scarlett, Shivaki, Vax.
We always carry out an initial diagnosis within 1 working day before repairs. Need more detailed information? Contact us.
Attention! If you have insurance for your vacuum cleaner or home contents, we will issue a repair certificate for your insurance, and your insurance will cover the cost of repairs before or after the repair. We work with all insurance companies.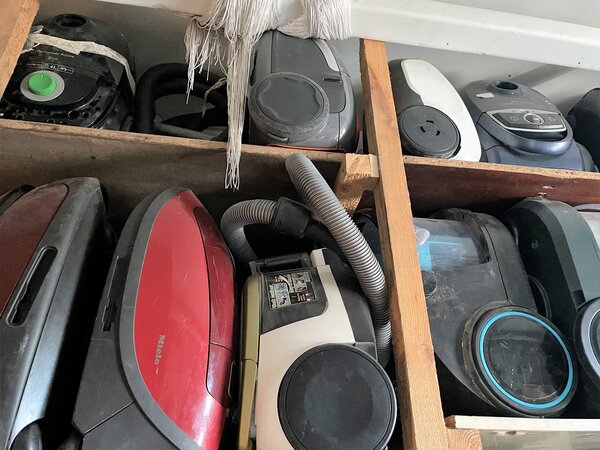 Vacuum cleaner repairs - price list
These are indicative prices and do not include parts prices. Exact prices depend very much on the specifics of the fault - sometimes a part can be repaired and sometimes it needs to be replaced (parts prices vary for each vacuum cleaner and require disassembly to determine the price). Diagnostics are usually carried out the same day if the vacuum cleaner is brought in before lunchtime. Otherwise, the next working day. Work after the diagnosis is usually done within 1-5 working days. When specific parts need to be ordered, work can take longer.
| Service | Price | Warranty |
| --- | --- | --- |
| Vacuum pump fault finding (diagnostics) | 5 € | – |
| Complete re-election and cleaning | From 20 € | – |
| Engine repair, replacement (usually when the pump won't turn on at all, when there's no thrust or when there's a higher than normal hum) | From 25 € | 2 months. |
| Repair/replacement of switching circuit, button | From 15 € | 2 months. |
| Repair of the power steering mechanism | From 15 € | 2 months. |
| Reel repairs | From 15 € | 2 months. |
| Mains voltage plug repair | From 10 € | 2 months. |
| Replacement of internal mechanisms (cable not untangling, etc.) | From 20 € | 2 months. |
| Replacement of broken hull parts | From 15 € | – |
| Replacing the battery for the broom pump | From 20 € | 2 months. |
| Vacuum cleaner defect certificate for the insurance company (paid by the insurance) | 25 € | – |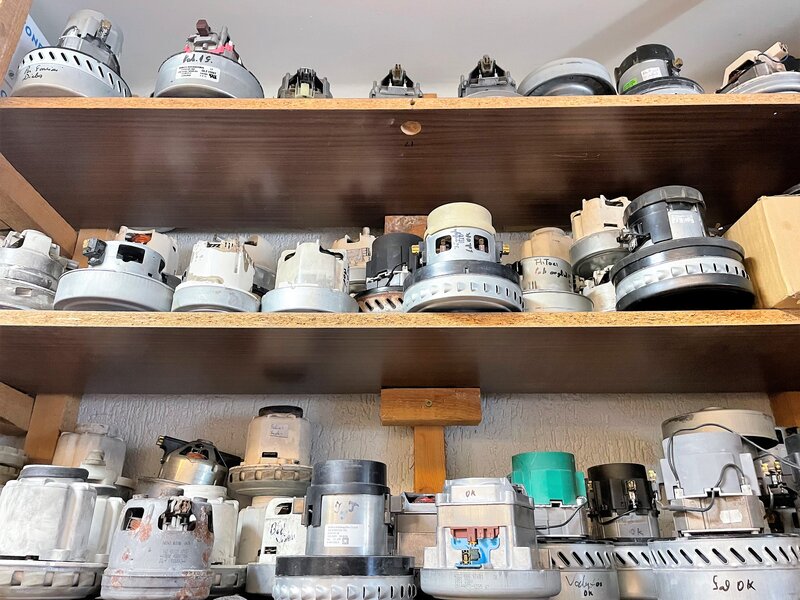 Most common faults
Here is a list of the most common faults. Whatever the problem, vacuum cleaner repairs can you believe us. Want to know how the work is done? Read more here.
Loudly
Switches off at start-up
Weak suction
Sparkle
Housing does not close
Sometimes does not turn on
Does not turn on at all
The power cord inserts itself inside
Smoke
Too hot
Throws an error after working
No traction
Smell of silk
Not running
Pumping for suction
Power button does not beep
Current fluctuates when switched on
Water leaking from the tank
Light on but not working
Accidental water intake
Cord lock not working
Faulty power cord