Repair7 provides professional repair of all types of TV repairs: QLED, OLED, LED, LCD, CCFL, Plasma.
We work directly with Samsung, Sony, LG, Toshiba, Panasonic, Thomson, Funai, TV Star, Hitachi, Fujitsu, Sharp, JVC, Pioneer, Grundig, NEC and other parts suppliers - to ensure top quality and good prices. Repairing televisions made with original parts only. This allows us to always offer a guarantee.
We always carry out an initial diagnosis within 1 working day before repairs. Need more detailed information? Contact us.
If you have home insurance or the appliance is insured, we can issue a defect certificate to the insurance company.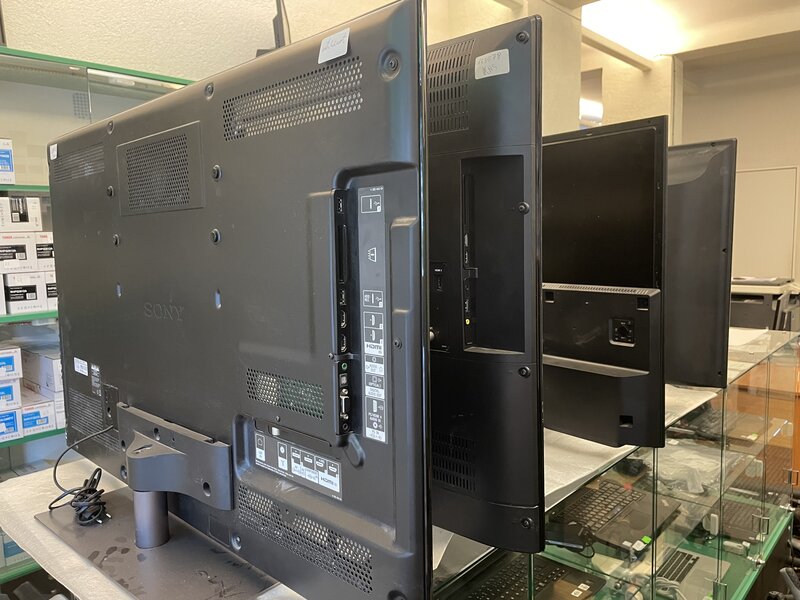 TV repair - price list
| Service | Price | Warranty |
| --- | --- | --- |
| Troubleshooting your TV (diagnostics) | 5 € | – |
| LED/LCD/CCFL lighting repairs (no video but sound) | From 50 € | From 2 months. |
| Control circuit repair / board replacement | From 40 € | 2 months. |
| Power circuit repair / board replacement | From 40 € | 2 months. |
| Repairing a broken or otherwise faulty TV socket (aerial, USB, HDMI, etc.) | From 25 € | 2 months. |
| Repair/replacement of motherboard (usually after power surges etc.) | From 40 € | 2 months. |
| Microchip (NAND) software rewriting / reprogramming / reflashing | From 20 € | 2 months. |
| Screen repair/restoration, driver repair (mostly when horizontal lines are displayed on the screen) | From 30 € | 2 months. |
| TV defect certificate for the insurance company (paid by the insurance) | 25 € | – |
Repairing TVs - the most common faults
Although these cases often require technical repairs and replacement of parts such as control unit repairs, T-Con board replacement, colour unit repairs, high voltage CCFL inverter repairs, broken socket repairs or replacements, here are some tips on what you can do yourself before delivery for TV repairs us. Read more about TV repair themselves.
1. The TV shows a blue, green or black screen
If the TV shows a single colour screen, this indicates that the TV is not receiving a signal from a particular device. Check that the correct input is selected on the TV, i.e. the interface number/socket (e.g. HDMI1/HDMI2/HDMI SIDE, etc.) to which the video input cable is connected from the device (cable set-top box, Blu-ray player, gaming PC, etc.) you are trying to play. If the connector is selected correctly, check that the cable is inserted correctly - all the way in - on both the set-top box and the TV.
2. The TV does not turn on
The first thing to check is whether the problem is with the TV or the remote control. First try replacing the batteries in the remote control. This is a common problem when the remote control does not seem to be working or the TV is faulty. Once you have changed the batteries, you can try a trick that requires a mobile phone. Point your phone's camera at the back of the remote control and press a few buttons on the remote control. You should see a light come on through the camera. If the light comes on, the problem is with the TV itself - try switching it to a different power socket. If you can't see anything, the problem is with the remote control. Remote controls wear out over time. You can buy a replacement remote control.
3. LED, OLED or lines or debris visible on the QLED display
The first thing to do is to find out what is causing it: whether it is physical damage to the screen or something else that is simply not displaying the image properly. Try switching the input wires - if the crack or line is still there, then the TV is probably at fault. In this case TV should be delivered for diagnostics us. Screen lines can be caused by both physical impact on the screen and internal faults. Internal faults are most commonly faulty light bulb strips, which we will replace. In other cases, the whole screen should be replaced. Replacing the whole screen is possible, but it can cost almost as much as a new TV set. In this case, check if you may have a home or other insurancewho will compensate you for your losses, and we we will issue a defect certificate.
4. TV shows picture but no sound
You should first double-check all cables - make sure the HDMI cable is properly connected to the TV and the speaker cables are properly connected to the speakers. Also make sure that the TV is set to output sound to any device connected to it. Try another cable or another device. If the home cinema speakers work fine for other devices, the problem is with the TV. Conversely, if the TV's internal speakers work and the speaker does not.
5. The TV screen displays an unnatural distorted picture
Although many consumers complain about this, TV manufacturers sometimes advertise it as a benefit and even enable it by default in the factory settings. This can be described as a kind of "enhancement" of the displayed image. If you are watching TV or a movie and everything looks too fast or almost as if it has been sped up, this may be an "enhancement effect". This is because the TV adds extra frames to the content it is showing in order to display it more efficiently and better, but for most people the picture looks almost "too real" and unnatural.
The good news is that it's easy to fix - all you need to do is review your TV's settings and turn off all additional effects. On different TVs, these features may be hidden in different parts of the menu. When you turn them off, the picture will look more natural.
Usual TV problems are just that. They can happen to anyone. Most of them are easy to solve, but if you have something you can't resolve, then you should seek professional help. Bring your TV to us and we'll help you solve any problem with your TV.
More about TVs and TV repairs
2023
2022
OLED stands for Organic Light Emitting Diode. "Organic" refers to the carbon film that is inside the panel before the glass screen. OLED panels themselves...