Taisykla7 for all types Samsung Galaxy repair and unbinding.
Replacing the glass on Samsung Galaxy phones
Replacing Samsung Galaxy phone screens
Replacing the screen and glass kit on Samsung Galaxy phones
Factory Untethering Samsung Galaxy from all operators and networks
Samsung Galaxy motherboard repair, repair of broken sockets, re-soldering of broken sockets
Programmatic repairs (Andrewriting roid etc.)
We always carry out an initial diagnosis within 1 working day before repairs. Need more detailed information? Contact us.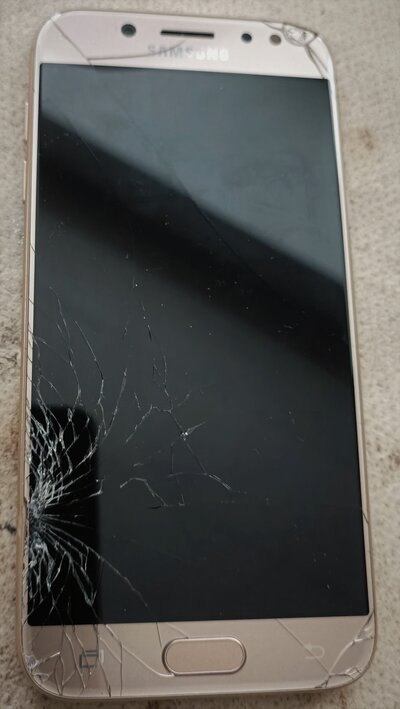 Repairing Samsung Galaxy phones
We repair all models of Samsung phones. From the latest models to older ones.
Full list of Samsung phones that need repair.
Samsung Galaxy M53
Samsung Galaxy S20
Samsung Galaxy S9
Samsung Galaxy S9+
Samsung Galaxy J5 2017 (SM-J530)
Samsung Galaxy Note 2 (N7100)
Samsung Galaxy S5 (G900)
Samsung Galaxy S4 (GT-I9505)
Samsung Galaxy S2 (GT- I9100)
Samsung Galaxy Grand Prime (G530F)
Samsung Galaxy S5 Neo (SM-G903F)
Samsung Galaxy Note 10.1 (N8000)
Samsung Galaxy A3 (SM-A300F)
Samsung Galaxy S3 Neo (GT-I9300i)
Samsung Galaxy Duos 2 (S7582)
Samsung Galaxy S4 mini (GT-I9195)
Samsung Galaxy S3 (GT-I9300)
Samsung Galaxy S7 Edge (SM-G935/SM-G935F)
Samsung Galaxy J7 2016 (J710FN)
Samsung Galaxy A5 2016 (SM-A510F)
Samsung Galaxy J3 2016 (J320F)
Samsung Galaxy J5 2016 (J510FN)
Samsung Galaxy J5 (J500FN)
Samsung Galaxy Tab 4 7.0″ (T230)
Samsung Galaxy Tab 3 Lite 7.0 (SM-T110)
Samsung Galaxy Grand (i9082)
Samsung Galaxy A5 (SM-A500F)
Samsung Galaxy Ace 2 (GT-I8160)
Samsung Galaxy Ace (S5830)
Samsung Galaxy Note (N7000)
Samsung Galaxy S2 Plus (GT-I9105P)
Samsung Galaxy Tab A 10.1 2016 (SM-T580)
Samsung Galaxy Tab A 9.7 (SM-T550, T555)
Samsung Galaxy Tab S 10.5 (T800, T805)
Samsung Galaxy S8 Plus (SM-G955F)
Samsung Galaxy S8 (SM-G950F)
Samsung Galaxy S6 Edge (SM-G925)
Samsung Galaxy A710 A7 2016
Samsung Galaxy J200 J2
Samsung Galaxy A310 A3 2016
Samsung Galaxy Tab S 8.4 LTE (SM-T705)
Samsung Galaxy Tab 4 10.1 (SM-T530, SM-T535)
Samsung Galaxy Trend 2 Lite (G318h)
Samsung Galaxy XCover 3 (G388F)
Samsung Galaxy Alpha (SM-G850F)
Samsung Galaxy S6 (SM-G920)
Samsung Galaxy Tab 3 7.0
Samsung Galaxy J1 (SM-J100F)
Samsung Galaxy Note 10.1 (P600, P601, P605)
Samsung Galaxy Tab 8.9 (P7300)
Samsung Galaxy Wave 2 (S8530)
Samsung Galaxy Express 2 (SM-G3815)
Samsung Galaxy Grand 2 (SM-G7102)
Samsung Galaxy XCover (S5690)
Samsung Galaxy Core (i8260)
Samsung Galaxy A7 (SM-A700F)
Samsung Galaxy Trend 2 (GT-S7572)
Samsung Galaxy Ace 4 (SM-G357FZ)
Samsung galaxy Ace 3 (GT-S7270)
Samsung Galaxy S5 mini (SM-G800F)
Samsung Galaxy Core 2 (SM-G355HN)
Samsung Galaxy Note 4 (SM-N910F)
Samsung Galaxy Tab 10.1 (P7510)
Samsung Galaxy Tab 10.1 (P7100)
Samsung Galaxy Tab 3 10.1 (P5200)
Samsung Galaxy Tab 2 10.1 (P5100)
Samsung Galaxy Tab 2 7.0 (P3110)
Samsung Galaxy Tab (P1000)
Samsung Galaxy Duos (S7562)
Samsung Galaxy Note 3 (N900)
Samsung Galaxy S3 mini